GENERAL INFORMATION
HI-Micro Polymer Modified Bitumen Emulsion
History of Micro surfacing Emulsion : Micro surfacing was processed in Germany in the early 1970. After a continuous research over the time resulting in as modern micro surfacing, this was introduced first in United Stated in 1980. Now it is only recognized most cost effective treatment in the surface rutting problems.
What is Micro Surfacing : Micro Surfacing is a protective seal coat which extends the life of pavement. It is a thin, tough layer of Asphalt Emulsion blended with finely crust stone, latex based polymer and chemical additives. This is a effective method to renew the road surface, which seal minimal cracks and other rutting treatment.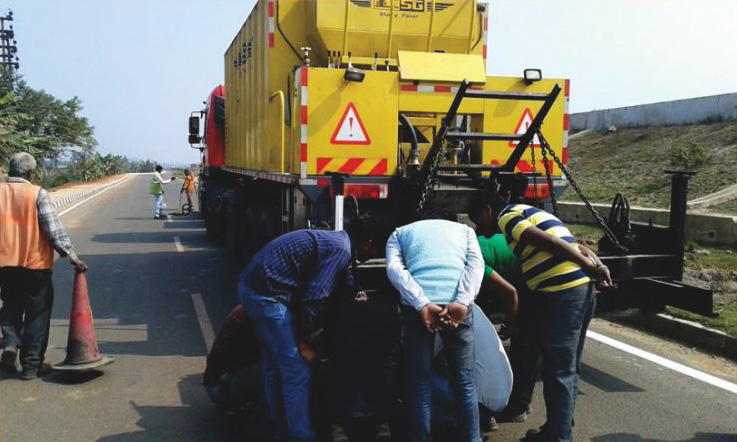 Composition :
The typical composition of micro surfacing mix consist of following ingredients:
NR Latex Modified Bitumen Emulsion (12% to 13%)
Dense Graded Aggregate (6 mm ↓ 100%)
Cement (0.5% to 1.5%)r
Additives (0.5% to 2.0%)
Water (10% to 12%)
Outstanding bond ability
Advantages of Micro Surfacing :
Quick setting.
Early opening to traffic within one hour of Applications.
Cost Effective.
Less Air/Noise Pollution
Prevent various type of cracking.
Increased skid resistance.
Better visibility at night.
Longer life since oxidation is reduced.
It is an environmental friendly and easy in application.
Surface water penetration will be stopped.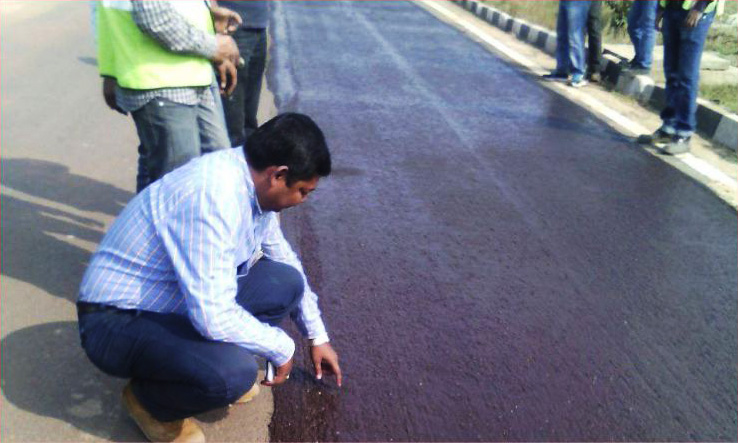 Applications :
Preventive for Periodic maintenance.
Various types of filling with the help of special seal coat.
Generally Micro Surfacing is laid in single layer but when the existing
Surface is with highly cracks, it is advisable to apply two or more layers.
It helps in preservation of pavement strength and prevents renewal treatment.
It can be used in both flexible as well as rigid pavement.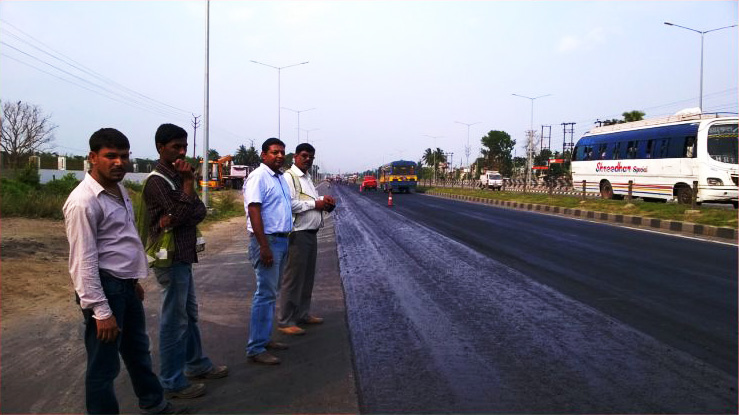 Limitations :
Not to Apply in rainy weather.
Aggregates should be dry, clean and dust free.
Technical Data
Requirements
Specifications
Test Method
Residue on 600µm ISSieve (Percent by mass), maximum
0.05
IS:8887
Viscosity by Saybolt Furol Viscometer at 25°C, second
20 – 100
IS:8887
Coagulation of emulsion at low temperature
Nil
IS:8887
Stability after 24 h (168h), %, maximum
2 (4)
IS:8887
Particle charge, +ve/-ve
+ve
IS:8887
Test on Residue
a)
Residue by evaporation, % minimum
60
IS:8887
b)
Penetration at 25 °C / 100g / 5s
40 – 100
IS:1203
c)
Ductility at 27 °C, cm, minimum
50
IS:1208
d)
Softening Point °C, minimum
57
IS:1205
e)
Elastic Recovery, *% minimum
50
IS:15462
f)
Solubility in Trichloroethylene, % minimum
97
IS:1216